Youth Day Master Classes
The Yavapai Symphony Association presents annual Youth Day – Master Classes to area students.
Musicians of the Phoenix Symphony Orchestra participate in musical instrument master classes at the local high schools and middle schools in the Prescott area.
This year's instructions on April 18, 2016 included presentations in the violin, bass, viola, cello, oboe, trumpet, french horn, trombone, tuba, clarinet, saxophone, percussion, and flute.  This event was partially funded by a FY2015 Acker grant.
Click The photo below to see the video of our 2016 Youth Day Master Class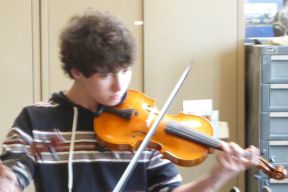 Orchestra members give students valuable tips in technique, performance, and instrument maintenance.
In 2016 classes were held at Prescott High School, Tri-City Prep High School, and Mile High Middle School for 276 student musicians.
The next Youth Day Master Class will be held in Spring 2017.  If your school is interested in participating in this event, contact the YSA office at (928) 776-4255.  This event is partially funded by a FY2016 Acker Grant.